CATEGORIES
LATEST NEWS
CONTACT US
ADD: Qingdao Automobile Industrial Newtown Zone,Jimo,Qingdao,China
TEL: +86 15066806994
E-mail: jahappy001@126.com

> Cattle Yards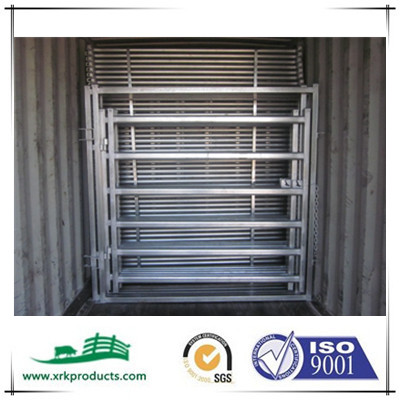 galvanized portable cattle gates
2.0x2.0m
Pre-gal pipe
fixed top
with pins
PRODUCT INTRODUCTION
Cattle gate:
Size:2.0(L)x2.0m(H),
Frame and Post size:50*50*1.6mm SHS,rail size:70*41.6*1.6mm oval pipe,
with 2pcs 16*200mm pins
The cattle yard panels are mainly exported to Australia and New Caledonia markets,with good quality and favorable price,we get a good reputation from our customers.
Besides the cattle yards,we also make cattle gates,cattle loading ramp,feeder & trough,farm gate,sliding gate,horse yards,sheep yards etc.
Now we have three big workshops,two for welding and one for stocking.We have more than 100 workers in our workshop,and we can export about 30-50 containers per month.Welcome to send us enquiries!
Contact details:
Grace Liu
Sales Manager
Phone:+86 15066806994
Email:jahappy001@126.com